For renters, nearing the expiration date of the lease is an overwhelming period since there are numerous things to do and decide upon. Should the lease be renewed? Or is it better to move to a different place? Which of the things should be packed, donated or disposed of?
One of the things you should not forget to do as a renter is cleaning the residence before moving out. There are numerous reasons why you should clean your rented residence before moving out. Make sure as well that you allocate enough time for this, especially if you would do the cleaning on your own.
To Get Your Full Deposit Back
Renters get their house cleaned by the end of the lease for the purpose of getting their deposit back in full. If you hire a professional cleaning service to clean every nook and crannies of your rented residence, the chance of you getting your full deposit back is very high. When you avail of their service, make sure you mention that you are hiring them for an end of lease clean. This way, they would be aware that they have to leave the place immaculate and spotless.
Some professional cleaning service providers also include a guarantee for their work should your landlord or rental agency is not satisfied and they would do the cleaning again. This should be one of the requirements you should look for before booking the cleaning company. They should also be flexible and accommodate your schedule, reputable and are concerned about doing the job properly and trustworthy that they would take care of your belongings.
To Have an Inventory Report in Your Favour
One of the most important pieces of evidence used to resolve a dispute is the inventory report. Of course, as much as possible, we are after to not ending up in a court to settle a dispute. But, if in case the need arises, having an inventory report to show that you have done your part as a responsible tenant and that you are leaving the residence in its cleanest state and you have done the repairs that you are responsible for, the verdict would be more likely to be in your favour.
To Ensure You Pack All of Your Belongings
Packing is a nightmare especially for those who are not organized and have lots of trinkets. But, if you get your house cleaned by professionals, there would be extra eyes to check the place before you leave to make sure you have packed all your belongings. Since they would be cleaning every room and every corner, they could see what you have might have missed.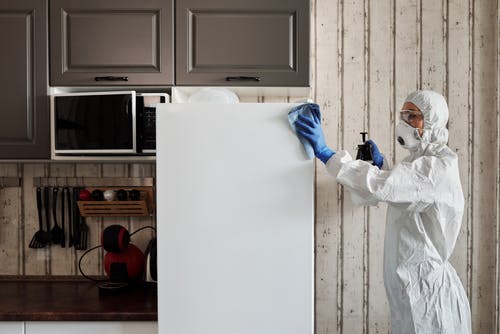 Seeing that the above-mentioned reasons are important, it is recommended that you request the help of professionals for cleaning the residence before you move out. Sure, you could do the cleaning on your own but you would be surprised at how much there is to clean especially if you are after to get your deposit back in full, to have a thorough and in your favour inventory reports and to make sure that you did not miss or leave any of your belongings.